I was just wondering,
Seeing as how Jack is now an only Child *Sniffle* and he's still a pup (Approximately five weeks old) I've been wondering, should I place him in an actual cage yet? I have many many maaany things for the little fuzzy already, Including A stealth wheel (=P thanks guys!) And I'm actually rather excited about setting him up with a cage.
He's very active (In small doses) His eyes are now wide open, He's able to eat solids - AND run around with them! lol XD He's even climbing rather well now, Even enjoys jumping onto my face
(Can't say I expected that just yet.) Ahahaha, he's also been diligently trying to discover where the two holes in the middle of my face lead.
Anyway, For six years, I had a very loving Chinchilla, He's recently passed away (May he rest in peace) And I still have his Newest cage, it's 30x18x36. It has Three ramps, two balconies and a full middle floor in it, aswell and It's just been laying around, in my closet - It's been washed off but not throughly cleaned, Soooo, If I sanitize it, Would that be suitable for my little Jack? You know, just to hold him over, until I build his real cage =P Here's what it looks like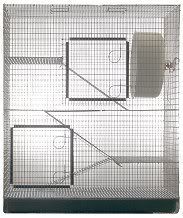 I can also take the middle floor out, if that would better suit the little guy.
I'm going to go look around, but if I cannot find it, what would be best to Sanitize the cage? (If It's even suitable for Jack, that is)
Thank you all for your help, be well and take care. hope to hear from ya soon.