I just wanted to make a thread warning you all of a "breeder" called
Even Keel Exotics
. Too make a long story somewhat short, in 2014 I was in contact with him in early 2014 and ended up purchasing two "8-week-old" flyers. I paid to have them shipped from Michigan to New Jersey. Once I received them and got them home, one seemed to be OK, while the others hind legs seemed to be paralyzed. I put my hand out, it crawled right into my hand, and died 10 seconds later. It was a very upsetting experience. Unfortunately, the other died a day later. I informed him of this and he agreed to send me two more given the situation. I received them a couple days later and in good health. Being a first time flyer owner and never seeing what a baby looked like, I had no idea that I was being taken advantage of. I had so much trouble getting them to bond. They would run at the sight of me and were very timid. One of them eventually started to calm down, but nowhere near the bonding experience that is described in this forum. After a few months, unfortunately, My fiance and I had to move and I was not able to keep them. I re-homed them to a good family nearby and said my goodbyes. Years later (now), owning my own house I wanted to give it another go and experience the bonding process that I longed for. I went back to ask Even Keel Exotics if they currently had any, he said no. So I decided on Janda Exotics (I will make another short thread of my recommendation of her and will not get into it in this thread). I just received my 6.5 half week old flyer, and checked by vet, and was so surprised how small he is compared to my previous two. You can actually tell he is a youngster. In the past 2 days I've had a much better experience than I did years ago. He is very sweet. To sum up, I suspected Even Keel Exotics sent me adults, and may have actually been wild. I sent him a message on Facebook accusing him of this and he said:
"Size is a poor representation of age. Many of our small animals are 80% full grown within a month of being weaned. A 5 week old and a 10 week old are going to look vastly different in size but are still both babies. I'm sorry you didn't have a good experience with the squirrels you bought from us but I assure you the age was accurate."
The first two pictures are of the "8 week old" flyers I received from him. The last set is of my new Chewy I received from Janda Exotics. You can clearly see the size difference, and I especially notice the difference in personality. I feel much taken advantage of Even Keel Exotics and wish I knew this back then otherwise I would have fought for my money back. DO NOT buy from him. I suspect he is either a mill or gets his flyers from a 3rd party who catches them.
HUGE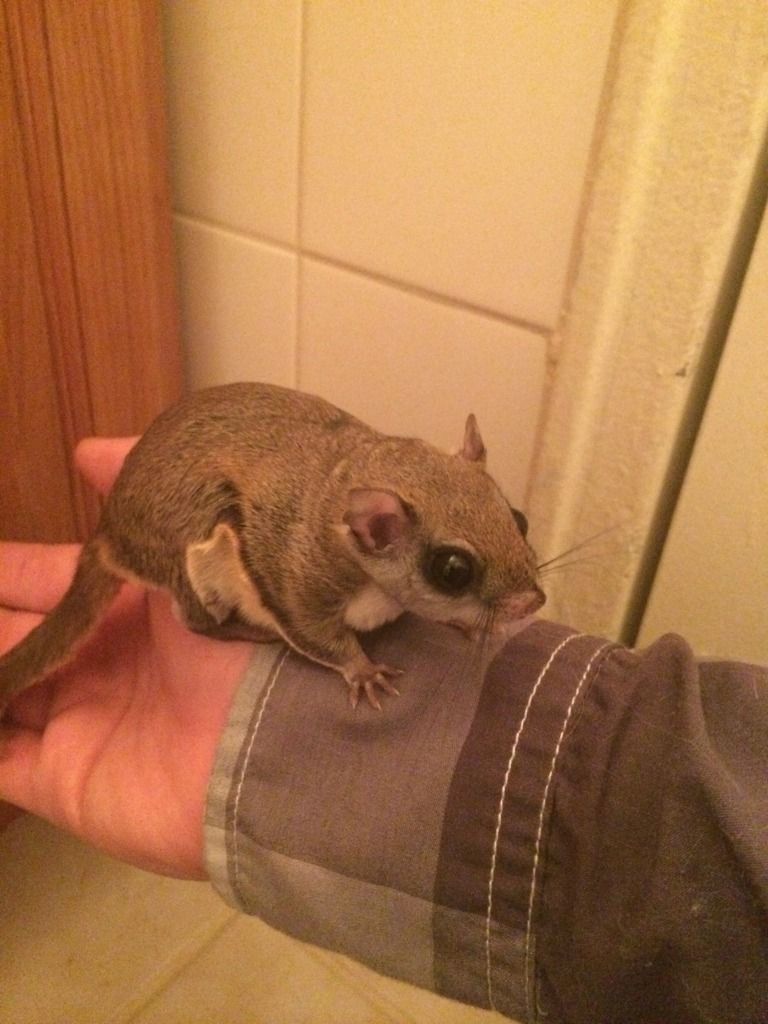 New baby boy, Chewy