If you ever need to hold your flyer for examination or treatment, here are some holds that work:



You wrap your

thumb and trigger finger

around the waist tightly or else they will wiggle out.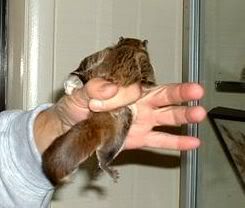 Actually, they aren't able to bite in this hold or believe me, Chuck would have. LOL Chuck tried to push out with his paws on my fingers and squirming, but it didn't work. Mike Winterrowd, Ph.D., one of the speakers at the ALA conference in 2004 showed us that hold. They used it in the field with wild flyers checked in their research.

The other hold was shown me by a vet and it enables you to examine the chest and head.



You grip the waist in a similar hold to the above EXCEPT you use the

thumb and ring finger

. The first and second fingers are crooked over the flyer's head holding the head on each side between the fingers. Examination is easier with this hold.

OR, you can use a towel as Dr. Lowry did in this photo: