Flyers are notorious for chewing out sutures after any surgery. To save yourself from staying awake 24/7 until recovery, try an E-collar which prevents them from chewing. Keep a close watch one your furball as removing sutures is one of their "Missions".

Here's Kay's Method:
"You can make an Elizabethan collar out of a Dixie cup or a piece of cardboard. Make the hole is

JUST

big enough to slip over the head because you can't hold them still enough to close it. I use duct tape and make the hole too small, and by trial and error, enlarge it until I can put it over the head and they can't get it off.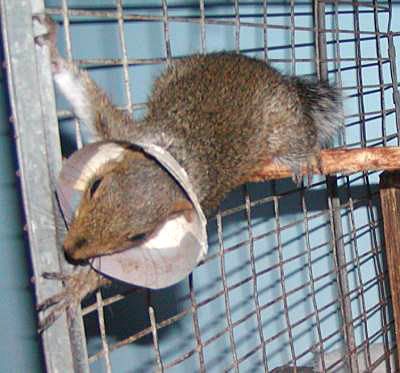 Here are instruction from Glider Central:

E-COLLAR INSTRUCTIONS:
1.) Trace template onto clear plastic notebook cover, then cut out.
2.) 1 sheet Dr. Scholls molefoam- cut 2 strips ¼" along long edge.
3.) Remove one adhesive strip and stick one on top of another leaving one adhesive strip for later.
4.) Cut ¾" off of dual layer molefoam- remove backing and adhese to clear plastic as shown.
5.) 1 sheet moleskin- sut a strip 1-3/8" wide down length
6.) Cut slits ½" deep at ½ " intervals down length
7.) Turn collar over molefoam side down. Remove backing from moleskin. Affix uncut edge to collar- about ¼" of it
8.) From the middle of moleskin- wrap around over molefoam, maintaining contours. Trim excess mole from edge.
9.) Cut 1/2" strip from moleskin
10.) Remove backing and adhese over slitted mole skin.
11.) Cut 1 strip 1-3/4" long X 5/8" wide
12.) Remove backing and place on edge of collar
13.) Wrap around edge of collar
14.) The Complicated Collar- Apply a small amount of duct tape, Fold a small amount of duct tape over to make a tab for easy removal.