If there is no irritated, bare skin, it is probably a molt gone wild. During a molt, there are usually fine, thin, hairs still visible. Some flyers will rub bald spots by repetitive running, flipping habits, etc.. Some flyers will overgroom (power grooming) areas and remove the hair by "barbering". The new (short) hairs often look lighter when compared to older fur.

According to Dennis Quinter, "If the skin doesn't look red or pink (like an infection) or wet (like a fungus) it is likely fur worn off somehow or just molting that they do twice per year. Molts are more visible sometimes than at other times."

If it's not a molt, is it over-grooming? Is the skin healthy and normal or flaky or red? It could be barbering from cagemates, self or a parsite. Mites can cause loss of hair and ringworm (fungal infection) causes a circular pattern of hair loss. Could also be a problem with their diet. Post pictures if you can. If mites are suspected, best bet it to take him into a vet to have a skin scraping done (a small sample of skin cells scraped from the effectied area is examed under a microscope).
Try to watch for over-grooming of the area and if his protein foods are high, lower them and see if that makes a difference. In rats, it's been noted that they develope a skin condition with elevated levels of protein. Obviously flyers are a different species, so its just a theory.


Frosty and his barbering fashion statement.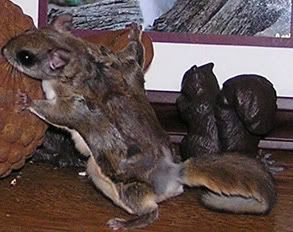 Tarjar's molt: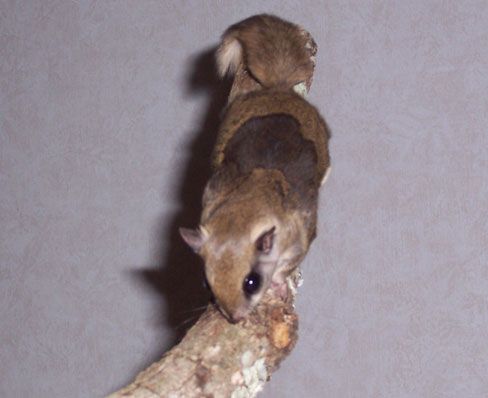 Chuck's molt:
One of Charlie's