A small nipple and a 1cc syringe will make it much easier. If you do happen to give them too much at one time, and milk comes out their nose, hold them with their head down so the milk will drain out and blot away the milk with a kleenex. Also, make sure you don't leave any milk on them after you feed them ... (it will take their hair off). Clean them up, if necessary, with a damp washcloth.

As far as how much to feed them, get a scale that measures in grams - you can find them in the kitchen department of Walmart. It will be useful to make sure the babies are gaining like they should be. Weigh them in the morning before you feed them. As a general rule, they should get approximately 5% of their body weight in cc per feeding. If, for instance, they each weigh 10 grams, you would feed them 1/2, or .05, cc each. Make sure the milk is very warm, but not hot, or they may not take it.

Where ever you get your syringes, make sure they are 'O ring' syringes. This is very important, because they are much easier to work with. You can use them over and over and they will still push smoothly - you still have good control over them. The others are very difficult to work with even when they are new and they just get worse with age! I have been raising flyers and rehabbing other squirrels for years and I have never been able to get the others to do a satisfactory job. You just can't beleive the difference in them until you try them both.
----- Judy C.

Here are a variety of Nipple and Syringe Sets:
http://www.squirrelsandmore.com/index.c ... uct_id=845

You can get one type, but this shows all available:
I use Zoologic Elongated Nipples:
http://www.squirrelsandmore.com/index.c ... uct_id=339

I use two nipples ... cut off the entire elongated part from the cap of the first one ... then thread the second nipple thru the first cap. This shortens the elongation and places 2 caps on top of each other giving the pups 2 caps to knead while nursing. Get both a 1cc (for early feeding) and 3 cc (for later feeding) syringes.
---- Joan

This is a photo of a 5cc syringe and 2 elongated nipples and 2 Four Paws vet nipples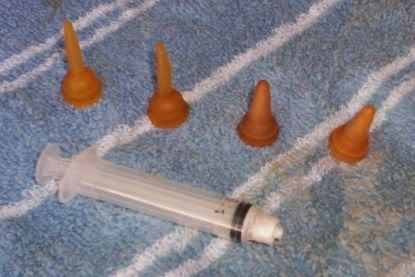 Cut the top off of one nipple (Powder is watching intensely).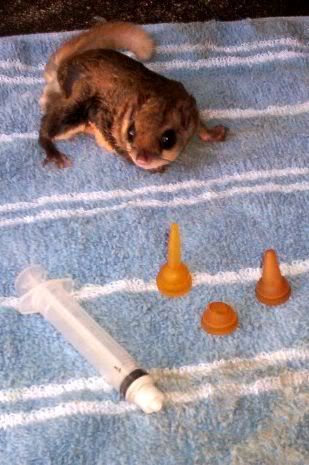 Thread an elongated nipple throught the cut off one.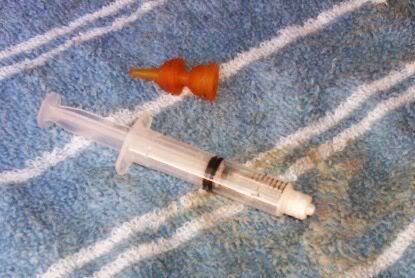 Take the syringe in the palm of your hand, wrap your 1st and 2nd fingers aroung the plunger.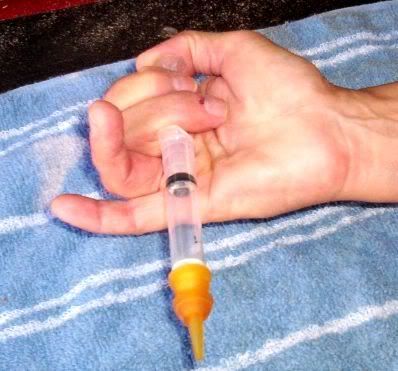 You can wrap your ring finger around the syringe body and push the plunger with your thumb. Your fingers around the plunger are a safety stop and gauge how fast the plunger is allowed to go. It is very easy to quickly STOP injecting formula.